Fanpage is one of the features on Facebook that makes it easier for us to market or introduce the products and services we have. with fanpage we can focus on providing updates about the businesses we have.
many features that we can use on the fanpage one of which is to schedule posts that will be updated. with this feature we can enter certain posts about articles or Facebook explanations in the future. the following way
How to schedule posts
1. First make the latest post in the timeline
2. then click on the down arrow button next to the button publish
3. Then an option will appear, select Schedule
4. Next under Publication, select the date and time the post will be published or updated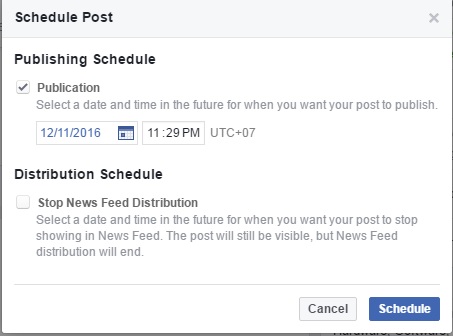 5. Finally click Schedule
Set Post Scheduled
Here's how to change a schedule, edit or delete a scheduled post:
1. Click Publishing Tools in the top menu
2. click Scheduled Posts in the left hand column
3. then click on the post you want to edit
4. Lastly click Edit or click the button
5. to publish, reschedule or delete them
To see the history of all scheduled postings that are edited, you can click View Edit History.
Also read: