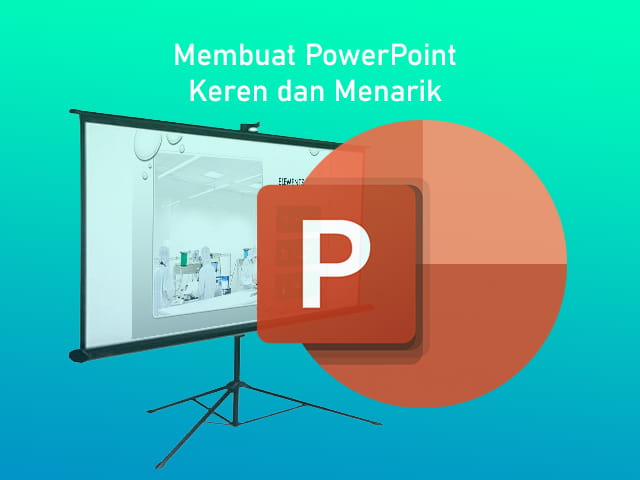 For all people who have activities as students, instructors, employees, or business people, of course they often do presentations. Presentations are usually done to provide a visualization of what is conveyed, of course to make it easier to understand. The most common way that is often done is make a PowerPoint presentation which is cool and interesting to show to the audience. For example, a teacher who makes presentations to explain subjects to students. Or, a businessman who describes the services offered to prospective customers.
To make presentation slides, one software that is very common and very often used is Microsoft PowerPoint. Microsoft PowerPoint is software that is provided by Microsoft to be used as a tool to visualize ideas in an on-screen display. With the presentation slides using Power Point, the audience or people who watch your presentation will more easily understand what is being delivered.
Unfortunately, there are still many computer users who are confused about how to make Power Point for use during presentations. In addition, of course not just to make, but also needed PowerPoint slides that are interesting in terms of visuals. The interesting PowerPoint slides when making presentations will certainly be the main attraction. The audience will feel more comfortable when looking at a cool and attractive presentation. Therefore, you must make a cool and interesting presentation slide.
How to make a cool and interesting Power Point Slide
If you want to make a presentation, then of course you have to prepare a Power Point file that has been filled in with what will be delivered later. The slides on the Power Point must be made as attractive as possible. However, you don't need to worry because actually you don't have to worry too much about the design of the PowerPoint slides.
In Microsoft PowerPoint there are already many presentation slide themes that you can use for free. So, if you want to make an interesting Power Point, then please choose a theme that is already available. Some of these themes can be used while you are offline, and some are only accessible when you are online.
1. Create a Power Point Slide and Choose a Theme
The first step that you must take if you want to make an interesting presentation slide using Power Point is to create a new Power Point slide. Please open Microsoft PowerPoint that is already installed on the laptop that you are using.
Next, in the main PowerPoint window, please click New in the left hand panel. Then, a list of themes will appear that you can use on the PowerPoint slides that will be created. Please choose one theme that you want to use it. However, if you don't find anything interesting, please do an online search, or click on one of the search suggestions, for example Themes. Of course you can only search for themes online when your laptop is connected to the internet.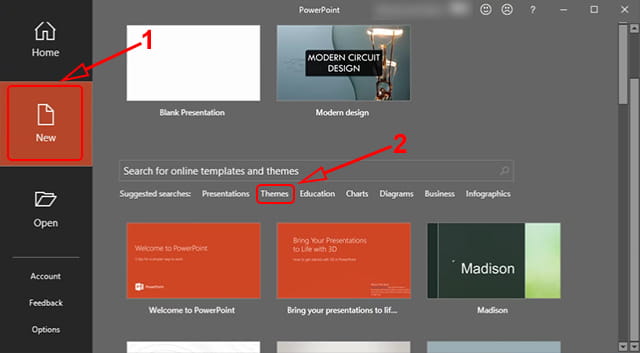 After you choose the theme you like, please click Create to create a new PowerPoint slide using the theme. If you use an online theme, it will be downloaded first so that the process will take longer.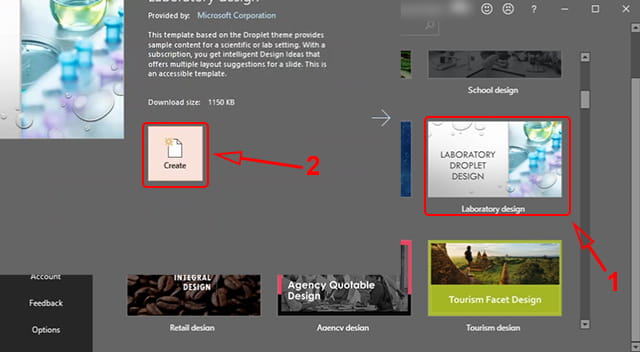 If the presentation slides have appeared, then you can create and enter the points that will be displayed. If a window appears Help, please close it by clicking x.
Please change the writings on the theme by clicking on the writing component then change. To change its location, then simply click on the slide component frame then slide using the mouse or touchpad.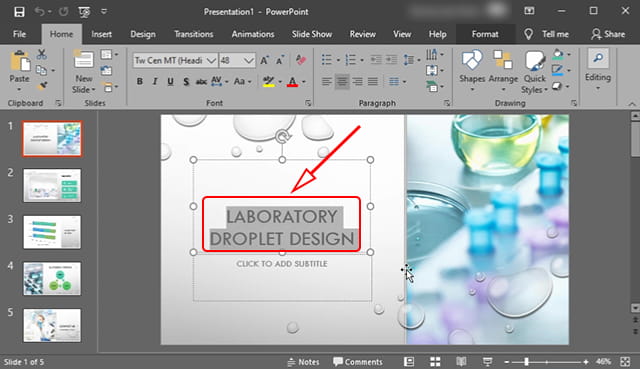 2. Adding Images, Tables, Graphics and More
In addition to making text or writing on slide presentations in Microsoft PowerPoint, you can also add other components. You can add pictures, tables, shapes, icons, graphics, links, audio, video and more. So, you can add any media to support the presentation that will be displayed.
To add these components to the slide, please click the tab Insert. After that, please select the icon on the component to be added to the slide.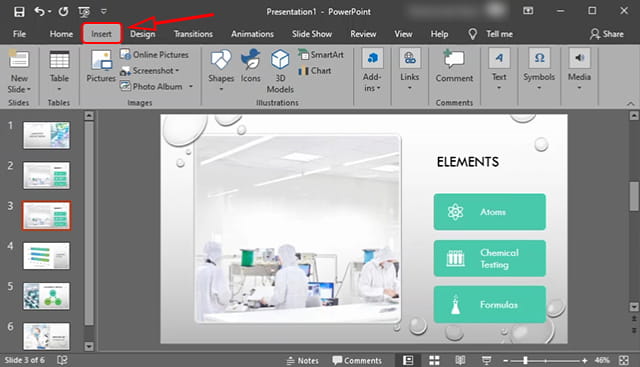 3. Add or Create a New Slide
If all the existing slides have been filled to your liking, then you can also still create new slides if needed. So, on the use of Microsoft PowerPoint to create presentation slides, unlimited number of slides can be made. However, it should be noted to use the number of slides as needed, try not too much so as not to confuse the audience.
To make a new slide in Microsoft PowerPoint, please click on writing New Slide. Then, in the list of slide types that appear, please select one according to the new slide type you want to create. The list of types of slides you can choose from is as follows.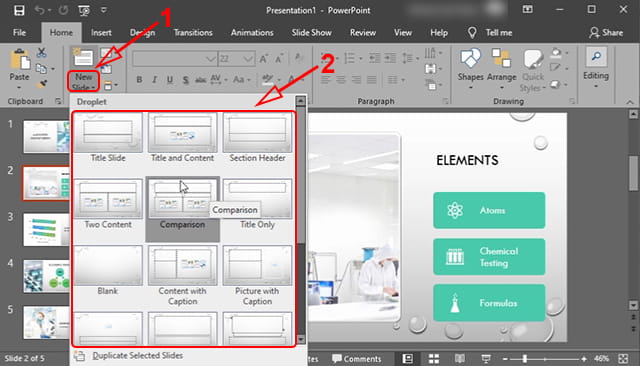 Title Slide
Title and Content (slide title and content)
Section Header (segment title slide)
Two Content (slide with two content)
Comparison (slides with content comparison)
Title Only (slide by title only)
Blank (blank slide)
Content with Caption (slide with content and description)
Picture with Caption (slide with picture and description)
After you select a slide type, a new slide will appear in the slide that you last clicked on. If you want to change the order and move the new slide, just click then slide up or down using the mouse or touchpad.
4. Duplicate an Existing Slide
In addition to adding new slides you can also copy or duplicate existing slides. Of course this is very appropriate to do if you want to use the same slide design. So, you just need to change the design without the hassle of setting the design all over again.
To duplicate or copy an existing slide is very easy to do. Please right-click on the slide you want to copy or duplicate, then click on the options that appear Duplicate Slide. Or, you can also use keyboard shortcuts, by pressing the secret key CTRL + D. After that, a duplicate slide will appear below the slide you duplicated. If you want to change the order and move the slides that have been duplicated, just click then slide up or down.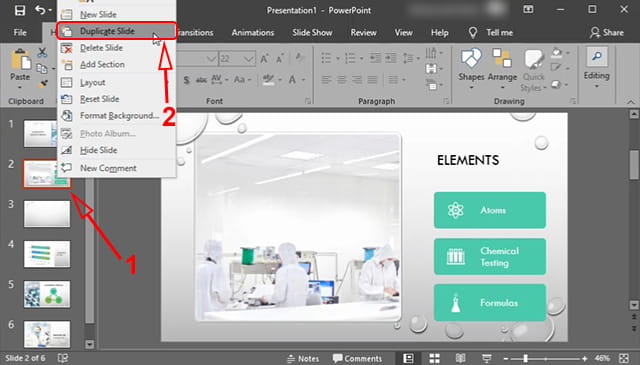 5. Delete an existing Slide
If there are slides that you don't need or accidentally created, you should delete them. Usually there are default theme slides that are not needed because they don't match the contents of the presentation, so they need to be deleted. Thus all remaining slide content is only relevant to the presentation.
To delete PowerPoint slides that you don't need, right-click on the slide you want to delete. Then, in the options that appear, please click Delete Slide. Or, you can also delete the slide by clicking on the slide and then pressing the button Delete on the keyboard.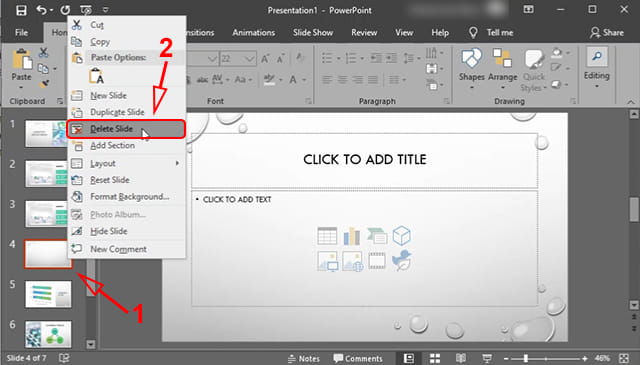 6. Adding Transaction Slide Between Effects
One of the most interesting things when doing a presentation using PowerPoint is if the slide changes aren't stiff. In other words, the change from slide to slide does not just change, but there is a transition that makes the turn smoother.
You can add a transition effect to each slide so that when changing it becomes smoother and less rigid. Adding transition effects to this PowerPoint slide is very easy. In addition, there are many types of transition effects that you can choose and apply.
To add a transition effect to a slide, please click on the slide where you want to add the transition effect. Then, click the tab Transitions to display a list of effects that can be used. For all transition effects to be displayed, please click on the icon More (bottom direction icon) found in the effect list icon column. After that you can choose the transition effect that you want to apply to the slide.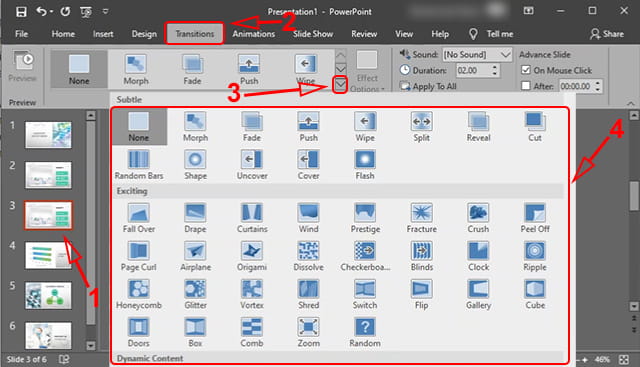 After you add a transition effect, the effect will be displayed briefly. If you don't like it, then please replace it with another effect.
7. Adding Animation to the Slide Component
In addition to adding transition effects, you can also add animation to any slide content or component. So, you can provide animations on text, images, graphics, and other components. So, when the slide appears, the components that have been given animation will not immediately appear in a flat manner, but accompanied by animation.
To add animation to a component in a slide, please click on the component that you want to add to the animation, whether it's text, images, or something else. Then, click the tab Animations to display a list of animations that can be selected. To have all the available animations displayed, please click on the icon More (bottom direction icon) located to the right of the animation list icon column. After everything appears, please select the animation you want to apply.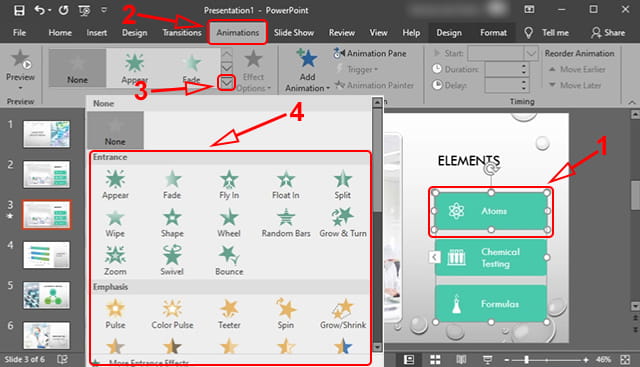 After you add an animation, it will show a glimpse of the animation changes. Of course to ensure that you like it or not. If you don't like it, then please change it and use another type of animation.
Using PowerPoint Creation Services at Fastwork Service
If you don't want to bother making Power Points or are in a hurry and still have to do other work, then please use the services of making Power Points. There are many service providers that can meet your needs. One of the service providers for making Power Point presentations is Fastwork Service.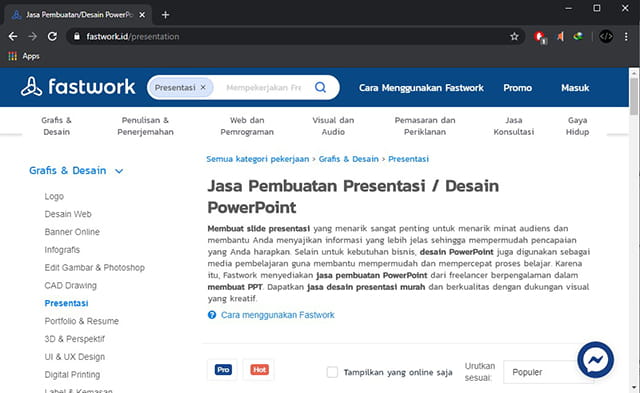 If you choose how to make Power Point use fastwork services, then other work can be completed and the presentation file can also be completed. You don't need to worry about the results, because your PowerPoint presentation will be done by experienced freelancers. So, the results will certainly be very interesting and in line with expectations, or even exceed your expectations.
Advantages of Using PowerPoint Creation Services at Fastwork
The advantage that you will get if you use the services of making PowerPoint at Fastwork is that all freelance workers are experienced. These freelancers are used to making presentation slides. In addition, the freelancers who will work on your PowerPoint presentation have gone through a verification process, so everything will be safe and smooth.
Fastwork also provides a chat feature so you can communicate with PowerPoint designers regarding the presentation ideas to be made. You can also choose which designers to use in making your PowerPoint presentation, according to the popularity and price provided. Of course this will make you able to find a suitable designer, and also suitable budget.
Fastwork is also not uncommon to provide promos that will make the PowerPoint creation services you need cheaper. Regarding payments, you can make payments transparently. Payments are made when the PowerPoint you want is made by the freelancers who are working on it. So no need to worry or worry about becoming victims of fraud.
That's the easy way to make a cool and interesting presentation slide using Microsoft Power Point. In the explanation above only explained the important points that you can develop by doing further exploration. However, if you don't want to bother making PowerPoint slides, then you can use PowerPoint creation services at Fastwork via the link https://fastwork.id/presentation.