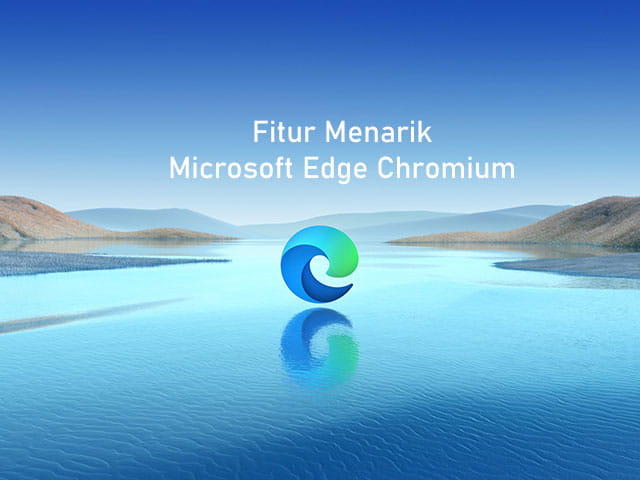 Microsoft now has a new browser replacement for Microsoft Edge that is embedded in Windows 10, the Edge Chromium. As the name suggests, Microsoft Edge Chromium is a chromium based browser, so it has similarities to Google Chrome. That is, there are some important and interesting features of Microsoft Edge Chromium that are the same as the features of Google Chrome.
Of course you can use this browser if you don't want to bother installing other browsers and want to use the default Windows 10. Microsoft Edge before it was still less desirable because of lack of features. So, with the combination of Microsoft Edge and Chromium, then of course the features presented will be more diverse.
When you want to use a browser, then of course the most important thing to consider is the features of the browser. Aside from being the default browser for Windows 10, Microsoft Edge Chromium is also equipped with several features that are owned by Google Chrome. So, after you update Microsoft Edge to Edge Chromium, then you can already enjoy some of the superior features of Chrome on the browser. Of course not all are the same, and there are also other features that are not owned by other browsers such as Google Chrome.
Attractive Features of Microsoft Edge Chromium Browser
Microsoft Edge Chromium is the result of collaboration between Microsoft and Google. There are many features provided in this new browser, as in the following explanation.
1. More Attractive Appearance
One of the most important parts of the first noticed from a software is display. Through the display, users can be interested and feel comfortable using the software, including the use of the browser.
Display User Interface Edge Chromium browser looks clean, elegant and simple. This display will make you feel comfortable to surf the internet for a long time. Of course one of the reasons is because the display provides wider visibility and important buttons and functions that are easily accessible. For example, the placement of navigation buttons on the left, the address bar in the middle, and other menus you can access on the right side. So, everything is available on one line that will save space so that the space to display web pages becomes wider.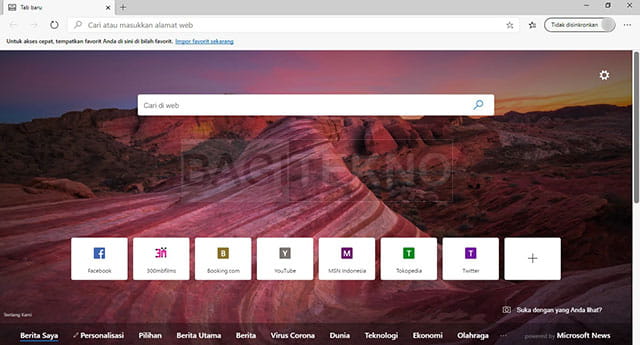 2. Profile and Synchronization
Another interesting feature is the presence of profiles and synchronization features. If you are a Google Chrome user, then of course this feature has become commonplace. This feature allows you to log in to a Microsoft account and synchronize so that all information such as search history, frequently opened web pages, and other information will be saved.
This feature will be very useful to provide recommendations when doing the same activity in the future. Or, if you use Edge Chromium on another device, all of that history will be directly connected to the new device.
3. Tracking Protection
Another interesting feature of the Microsoft Edge Chromium browser is security, which is tracking protection. This feature will make your browsing activity not tracked by any party.
So, you can still hide on the internet even when you are browsing. This means that this feature will prevent vendors or other parties from gathering information about your browsing activities, such as frequently accessed web pages, what interests you, and more. This setting has three levels that you can choose from, namely Basic, Balanced, and Strict.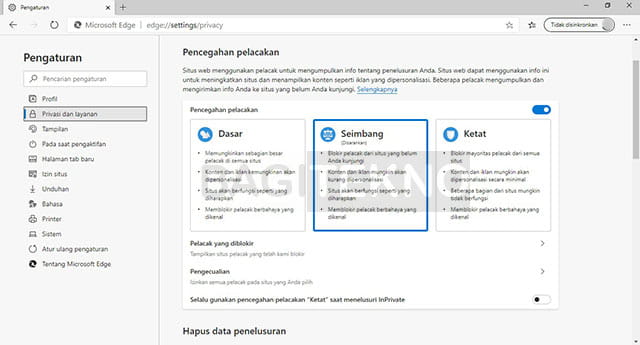 4. Can Install Google Chrome Extensions
This feature can be said to be the most interesting of all. Given that one of the earlier Microsoft Edge factors was less requested because of the lack of extensions or add-ons.
Microsoft Edge does have its own place that holds all the add-ons that you can add. But, on this Edge Chromium you can also add Google Chrome extensions on Edge Chromium, such as IDM extensions and others. So, the browser can be more powerful because it can be combined with every Chrome extension you need.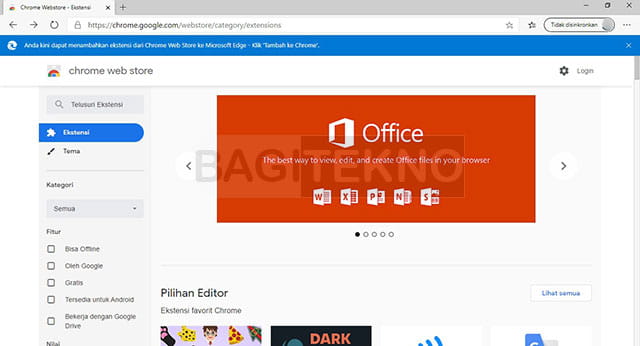 5. Dark Mode
Microsoft Edge Chromium is also equipped with a dark mode feature that you can activate at any time. So, if you usually surf at night, then please use the dark mode. Plus if you already use dark mode on Windows 10 installed on the laptop.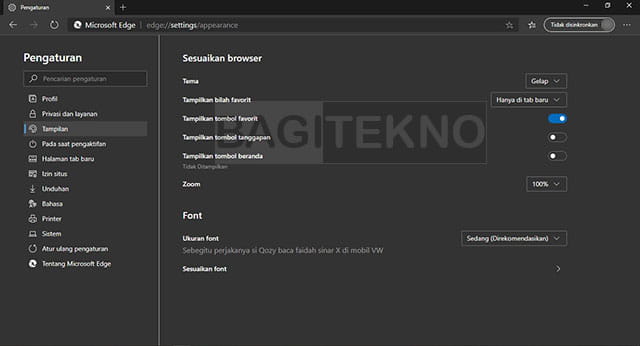 Those are some interesting features found on Microsoft Edge Chromium. Of course there are many other features that you can feel yourself when using it. So, if you want to use the default Windows 10 browser, then please try using this Microsoft Edge Chromium.