Besides playing bicycles can be used to fill spare time with children, and a means of socializing children with their peers, it was also good for triggering the development of the motor nerves of the child. If the child is not yet proficient in riding a bicycle, you can attach additional wheels to support the bike's position to remain stable. Later if the child has begun to become proficient and confident, you can remove the additional wheels earlier.
On the market there are many models of bicycles for children. Starting from the tricycle, four-wheeled bicycle (using two additional wheels), and the latest type of folding bike with 16-inch tires.
If you're looking for a folding bicycle for your little one, instead of his tricycle. You can glance at the following 7 bike recommendations:
Kouan Folding Bike
Prices start at 750,000
Kouan folding bikes are designed specifically for girls, with attractive pastel colors, a basket at the front and additional wheels that can light up. This bike is suitable for traveling with your child. Because the bicycle can be folded to be carried and placed in the trunk of a car. How to fold a bicycle is also very easy so you will not be difficult when folding and opening it. Even your child can still play the bicycle, while on vacation at the place of grandfather / grandmother. Oh yes, Kouan bikes can be used by children from kindergarten to elementary school class 1 and class 2, because the additional wheels can be disassembled as needed.
Pacific 2990 HT-V 16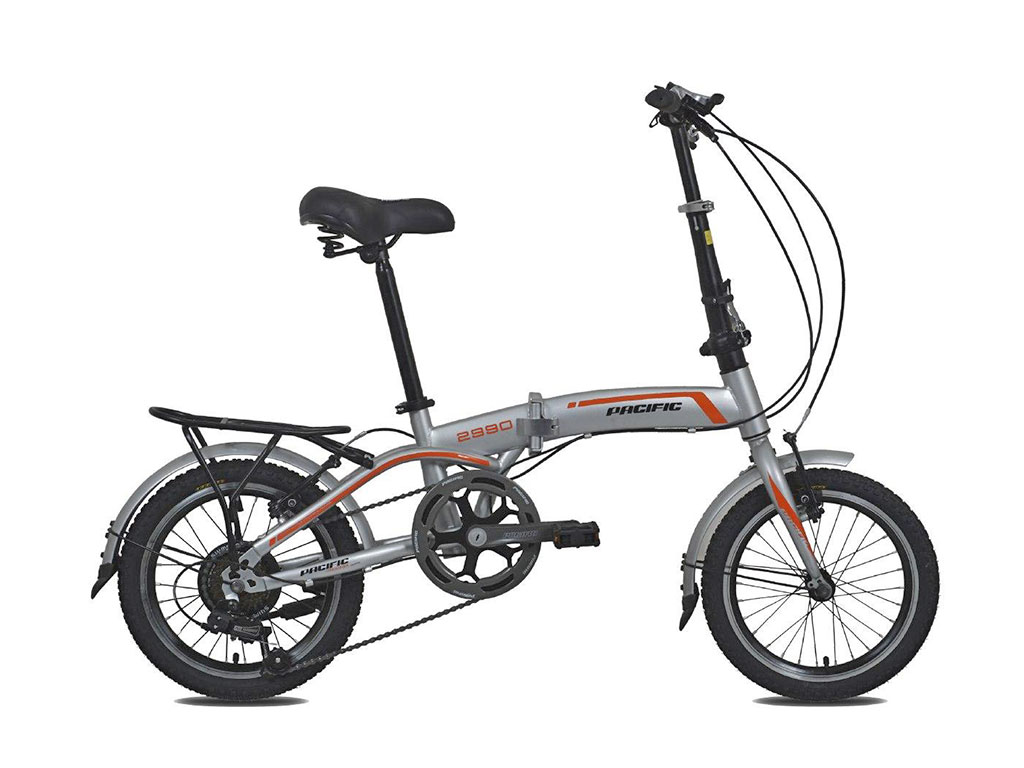 Prices start from Rp1,400,000
This folding bike with 16 inch wheels is suitable for driving by children of primary school age. Because it has a saddle and handlebars whose height can be adjusted according to the child's posture. The size of the wheels that are not too big will make it easier for children when riding this bike. Pacific 2990 children folding bikes are equipped gear system Shimano 7 speed. Making this bike can be ridden without having to bother pedaling. This Pacific bike is available in 4 colors that are suitable for boys and girls namely Silver-Orange / Gray-Tosca Green / Black-Tosca Blue / Black-Yellow. This bicycle folding system is also fairly easy to do. Although it cannot be folded by the children themselves, the frame is quite heavy.
Exotic Children's Folding Bikes
Prices start from IDR 600,000
This Exotic kid's bicycle can be used by boys and girls. Made from sturdy hi ten steel material, this bike makes it sturdy and durable. This bike has a plastic basket at the front, and already has a pillion at the rear. Exotic also provides additional wheels that mothers can use, if the child is not too adept at riding a two-wheeled bicycle. This kid's special Exotic bike is also equipped with chain protectors. Make the child can play the bicycle without having to worry about his feet scratched by a bicycle chain.
Violet Family
Comes with a cute soft pink color that shows that the Family folding bike product for children is designed specifically for girls aged 4 to 10 years. Family bikes are sold as a set with additional wheels, which will help children learn to ride bicycles. Family Violet folding bikes are also equipped with pillion. Make your child can piggyback his younger sibling or friend when playing bicycle. Despite not having gear system (only single speed), Family bikes have lightweight pedals for children to pedal.
United Stylo 16
Prices start from Rp1,300,000
United Stylo folding bikes can be used by elementary school age children who are already quite adept at riding bicycles. This bike is suitable for your child to accompany him to go to school, or just cycling in the afternoon with friends. Using a 16 inch tire makes United Stylo easy for anyone, children or adults to drive. The design of the United Stylo bike also looks unique, with the trunk of the middle frame curved like the letter "S". The bicycle is easily folded, to be stored or taken away. Although not a special folding bike for children, but United Stylo can be a bicycle choice for children, fathers and mothers.
Odessy ATX16 City Edge
Prices start from Rp.950,000
Bicycle design is one aspect when choosing a child's bicycle, especially for urban parents who want to look trendy and stylish. Odessy ATX-16 City Edge is a folding bike product that pays attention to this. Comes with more frames colorful and sturdy. Odessy shows that her folding bicycle products can be used by children, teenagers, to young parents. Mothers need not be afraid of children feeling sore when riding this bike. Because the Odessy ATX 16 bicycle saddle has thick foam with a spring on the bottom. Children are even more comfortable when riding this bike.
Erminio 613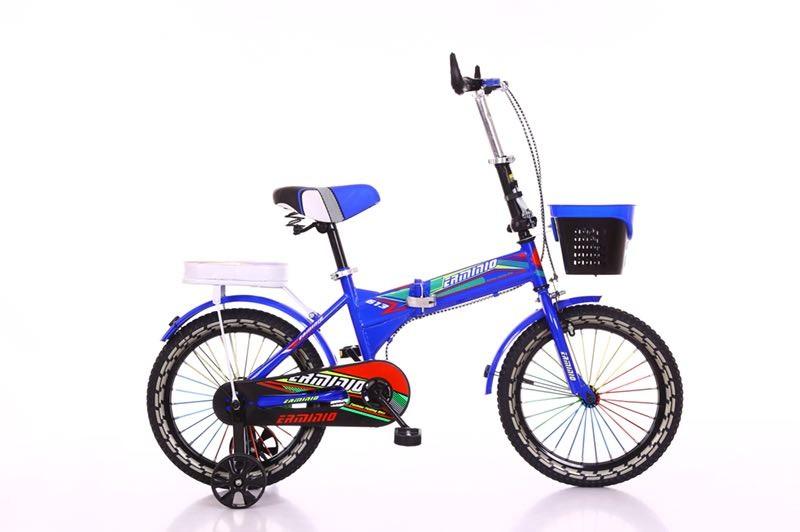 Prices start from IDR 700,000
Erminio child folding bikes are the right choice for parents who have a limited budget, but want to provide their children with quality folding bicycle products. One of them is the Erminio 613 bicycle that can be used by boys and girls aged 4 to 6 years. This bike has a plastic basket (which can be removed easily) at the front, and a pillion at the rear. This bicycle saddle has thick foam that is comfortable to sit on. In addition, the Erminio 613 bike is also equipped with fenders on the front and rear wheels. Children can play bikes without fear of splashing water.
That's the 7 best children's folding bike recommendations that are easy for your little one to ride. Just choose the bike that suits your budget and your child's taste.