Omega 3 is arguably one of the compounds needed by children who are still in their infancy. The many ingredients contained in fish oil to help brain development and endurance. In addition, omega 3 also works to prevent depression, edema, and a weak body.
Not only omega 3, there are also omega 6 fatty acids which are the origin of essential fats that are needed in the growth period. Omega 6 functions as an energy producer and prevents chronic diseases, such as hypertension, obesity, and diabetes. These two nutrients are usually contained in a vitamin that contains fish oil.
Omega 3 Needs for Children
Omega 3 is needed by everyone, including children. The difference is only in the levels. Since children aged 1 year and above, parents should provide food intake that contains omega 3.
Toddlers 1-3 years only need 700 mg of omega 3 per day. On the other hand, children 4 – 12 years old need 900 mg of omega 3 per day. However, these needs may increase in certain body and health conditions.
Fulfillment of omega 3 per day can be obtained from various types of food. You can give fish, nuts (almonds and walnuts), whole grains, eggs, and red meat. Unfortunately, there are several types of food that are less liked by children.
Of course, you need varied kitchen creations so that children still want to eat foods containing omega 3. In addition, of course, you need to provide vitamins that contain omega 3.
Recommended Brands of Vitamins that Contain Omega 3
On the market, there are many types of vitamins and supplements that contain complete omega 3. Here are some choices that are safe for consumption by children.
1. Nature's Health Omega Junior
This food supplement can only be given to children aged 2 years and over. Omega Junior is useful for maintaining healthy skin, heart, and joints for children. So all the important organs of the baby's body can grow and function properly.
In addition, vitamins that contain omega 3 can also help improve children's intelligence and maintain a healthy mind power. Your little one can concentrate more on doing something.
2. Nature's Way Kids Smart Omega 3
Children should be given omega 3 intake early. This vitamin contains two essential omega 3 fatty acids, docosahexaenoic acid (DHA) and eicosapentaenoic acid (EPA), which are needed for your child's growth. Nature's Way Kids Smart Omega 3 is shaped like a candy that can be chewed so it is easy to give to your child. Give this vitamin once a day for children aged 6 months to 5 years.
3. Nutrimax Kidz Omega 3
This one child supplement is omega 3 with 70 percent content of salmon oil extract. In addition, Nutrimax Kidz Omega 3 also contains EPA, DHA, and ALA which are good for supporting brain development. Consuming as much as 1-2 eggs per day after eating can also help healthy digestion, breathing, and the skin of your child. Children will prefer it because it is soft and not fishy.
4. Nordic Naturals Children DHA
This vitamin may be the baby's favorite because it is equipped with two delicious flavors, namely orange and strawberry. The shape is soft and chewy to chew. Nordic Naturals Children DHA can be given to children aged 1-6 years to meet omega 3 intake per day. Not only that, this supplement also contains vitamins A and D which are able to maintain eye health, the immune system, and maintain the mood of your child.
5. Scape Wellbeing Kids Omega-3
Scape Wellbeing Kids Omega-3 contains 500 mg of fish oil in each capsule. You can give to children over 3 years old every day. The content of fish oil is able to maintain the health and function of important organs, ranging from the heart, liver and lungs. Taking this supplement every day can also balance cholesterol levels in the blood for children who are fond of eating fried foods.
6. ChildLife Pure DHA
One of the advantages of this vitamin supplement is that it can be chewed directly by your child. You also don't need to worry because the strawberry flavor will make your child happy to eat it. Of course, this vitamin is free of gluten, casein, alcohol, and other ingredients. ChildLife Pure DHA can be consumed until the age of 12 so that your child can make the most of omega 3.
7. Healthy Care Omega 3 Fish Oil
Actually this supplement is for consumption by adults. However, children over the age of 2 years can also consume it with the advice of a doctor. The efficacy can reduce the risk of heart disease and stroke for the gods, as well as other healthy organs for children.
Healthy Care Omega 3 Fish Oil is also able to maintain healthy eyes, skin, and joints for your little one who goes into growth. Healthy eyes will also make higher concentrations.
8. Whale Cod Liver Oil Cap
This supplement contains 200 mg of cod liver oil which is high in omega 3. In addition, this product also contains vitamins A and D for the eyes and bones, and helps the growth of your child. The capsule shape is relatively small and easily swallowed by children. Give 1-2 capsules per day to meet the needs of omega 3. Don't worry, Whale Cod Liver Oil Cap is quite affordable and easy to get on the market.
9. Blackmores Odorless Fish Oil 1000
This supplement brand is already well known for its quality. Blackmoures uses omega 3 sources from deep sea fish, but is processed well so it doesn't smell. This omega 3 vitamin can be consumed by children aged 2-12 years with a dose of 1 capsule per day. More delicious, you can mix it into milk, cereal, or fruit juice to make it more delicious.
10. Moller's Cod Liver Oil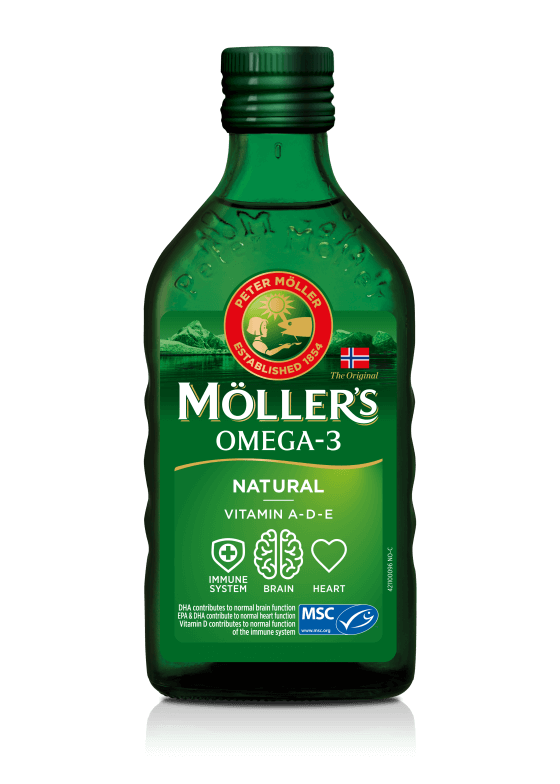 This fish oil supplement containing omega 3 is in the form of syrup with fruit flavor. Certainly not a difficult matter to give it to your child. The content of DHA and EPA in it is quite high. You only need to give 5 ml of cod liver oil and your child can get up to 600 mg DHA and 400 mg EPA.
Those are some vitamin recommendations for children containing omega 3. Give additional additional intake for children from an early age to perfect the growth period.
(Ade K. Irawan)